World's Most Accurate CGM – Now in INDIA
A breakthrough in diabetes management is continuous Glucose Monitoring system. A NUMBER IS NOT ENOUGH. Instead of seeing a moment in time on a meter, the Dexcom CGM allows to get glucose readings every 5 minutes. Unlike finger sticks which give a number for a single point in time, Dexcom provides complete picture of your glucose levels. It gives dynamic glucose information by showing you where your glucose level is, where it's going and how fast it's going there. Dexcom CGM allows to get glucose reading every 5 minutes, identify patterns, provision of viewing the rate of change, make informed decisions. This system is indicated for detecting trends and tracking patterns of blood glucose levels.
HOW DOES IT WORK?
here are three components- Sensor, Receiver and Transmitter.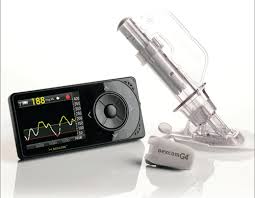 The small sensor measures the blood glucose level just underneath the skin and the transmitter sits on the top to send data wirelessly to the receiver.

The receiver displays glucose values as they happen so you will know where your glucose heading and how fast.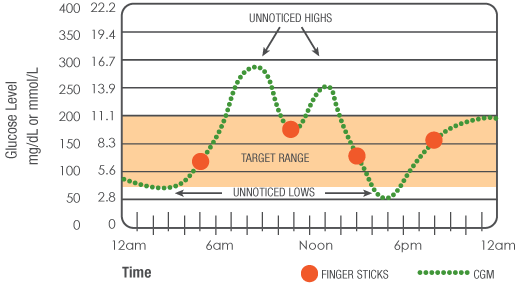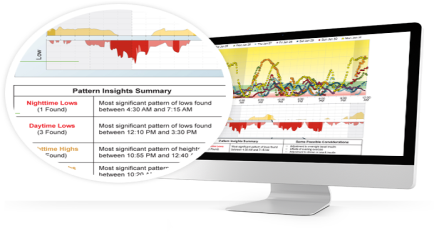 WHY CHOOSE TO DEXCOM?
Security: Customize alert profile to suit individual needs as well as a built-in severe hypo-alarm at 55 mg/dl for added awareness that no other CGM offers.
Accuracy: Exceptional performance for results you can trust.
Simplicity: Everything you need to see by touching one button.
Flexibility: A transmission range upto 20 feet and two approved sensor placements on the abdomen or upper buttock area.
Longevity: Approved for 7 day wear, Dexcom has the longest wear sensor on the market for added value and convenience.
Versatility: It can be used for the children as young as 2 years old.